---
Buttock Augmentation Chicago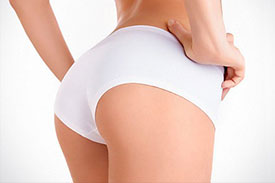 Some call it a Brazilian Butt Lift and others call it buttock augmentation but regardless of its name, there is no doubt that more and more women are interested in enhancing their curves. Buttock augmentation is the cosmetic surgery with some of the greatest growth and demand nowadays.
To obtain the desired results it is of utmost importance to choose an experienced board certified plastic surgeon for this procedure. An experienced surgeon can help you achieve the desired size and projection of the buttocks while maintaining the harmony and symmetry of your buttocks.  Dr. Vincent Makhlouf has a successful track record of buttock augmentation and has helped his patients get the silhouette they desire.
Your genetic makeup, in addition to your weight determines the appearance of the buttock. Many patients express frustration over their natural buttock because it is flat, square, or small. If you are one of these, you could be a good candidate for buttock augmentation.
Buttock Augmentation Surgery Options
Brazilian Butt Lift
Women who want a modest increase in size, and have large stores of fat available elsewhere in the body, may be good candidates for buttock augmentation with fat transfer, also known as the Brazilian Butt Lift. It is important to know that not all fat survives the process. Dr. Makhlouf will give you his honest opinion about whether this route is a viable option for you.
Silicone Implants
Dr. Makhlouf also performs buttock augmentation with silicone implants, which are made of a soft solid material. As a result, the buttocks feel natural and the procedure is performed through a very safe approach. He has designed and patented his own instruments that allow him to use larger implants than most other plastic surgeons.  This strategy has the advantage of giving patients more extensive and accentuated curves.
Fat Transfer
If you and Dr. Makhlouf have decided that fat transfer is the right approach, he will carefully harvest the fat, usually from the thighs or abdomen. After processing the fat, it is injected into the buttocks in small amounts.  This allows the surrounding tissues to nourish the new fat. He will then "over graft" to ensure that enough fat ultimately survives.
Advantages of Surgery with Dr. Makhlouf
When the approach to surgery is with implants, Dr. Makhlouf's special instruments allow him to see the target area and maneuver effectively even though the incisions are small and the buttocks are curved. The instruments have high power lighting and smoke suctioning, this makes him capable of placing implants up to 500 ccs in size. The results are pleasing in projection and symmetry.
Post Operative Care
Whether you choose to transfer (Brazilian Butt Lift) or implants, you can expect moderate soreness the first few days after the procedure. Pain medications will be available to help you when needed. We will also make sure that you have the compression garment to assist you in your healing process, special pillows and other items for this purpose.
Most patients also notice slight swelling and bruising after surgery. These will resolve on their own over time; you can help by following Dr. Makhlouf's instructions for taking time off of work and avoiding strenuous activities.
It may take several weeks for the final results to be apparent, so be patient. As long as you take care of your body with good nutrition and exercise, you can look forward to long-lasting results.
Ready for a Consultation?
If you are in need of relief, please give us a call: 847.297.8001, or we can call you back if you provide your details.  Check out our previous buttock augmentation surgeries in our photo gallery.